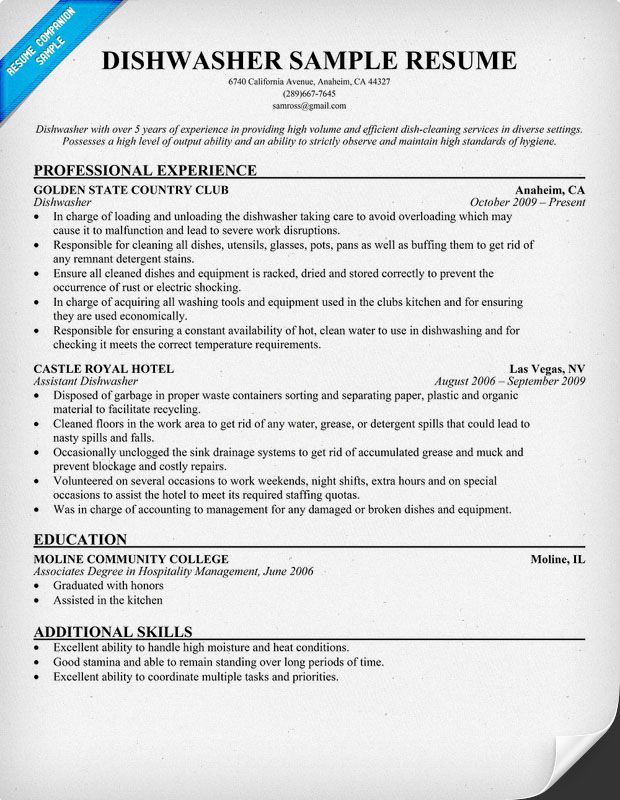 Dishwashers are essential components of every commercial kitchen, and they are in charge of cleaning dishes, glasses, cutlery, and other food service equipment. If you enjoy being near food but aren't interested in a cooking profession, working as a dishwasher might be ideal for you.
While the work may appear straightforward on the surface, maintaining things clean and hygienic at a busy restaurant or hotel involves a great deal of intricacy. So, if you're searching for a job that requires little work yet pays well, dishwashing can be the ideal option for you. Here is some pointers and an example Dishwasher Resume  to help you build a strong dishwashing resume that hiring managers would like.
Create Captivating Bullet Points
The most efficient technique to highlight your experience and qualifications is using bullet points. Instead of merely stating your duties, you might utilize bullet points to convey a story about your job. Instead of mentioning "cleaned dishes," say "cleaned dishes for 200 visitors at an upmarket restaurant, ensuring all dishes were pristine and ready for use by the following shift."
The second bullet point gives a far more vivid image of what your work entailed and the degree of responsibility that came with it. It also offers a measurable indication of how many dishes you cleaned, which is an excellent method to demonstrate your degree of skill.
Choose and Include Relevant Keywords
When you apply for a dishwashing position, your resume will most likely be analyzed for certain keywords by an applicant tracking system (ATS). These systems scan for keywords like "sanitation" and "dishwashing" to see if you have the requisite abilities and experience for the job. If your resume lacks a sufficient number of key phrases, the ATS may reject it before it reaches a human.
Make Sure Your Resume Is Scannable
You may make your resume more legible and scannable by left aligning your content, using a uniform font type and size, and reducing the amount of formatting you employ. You should also use bullets rather than paragraphs to list your achievements, and confine bullets to no more than two lines. Furthermore, try to leave some white space on the page to establish visual distinction and to draw attention to the most significant topics.
Be brief
There is no ideal length for a resume; it may be one page or two pages long, depending on your degree of experience and the amount of material you want to include. However, it's crucial to be succinct and get your point over fast, so keep things brief and to the point. Remove any extraneous material from your CV, such as personal characteristics or interests, and focus on the most important experience and abilities.
Proofread
It is critical to proofread your resume to ensure that it appears its best. With a diligent eye, spelling, punctuation, and grammatical errors may all be readily rectified. Having someone else edit your resume is also beneficial, as they may detect errors that you overlooked.
Consider adding a summary
A resume summary statement may be a very valuable tool while seeking a job. It helps you to contextualize your experience and talents, as well as explain how you envision your previous expertise transferring into the career you're aiming for. When drafting your summary statement, keep your key soft skills in mind, highlight your most highly transferrable experiences, and declare your aims. Keep it brief and to the point, and you'll leave a lasting impression.