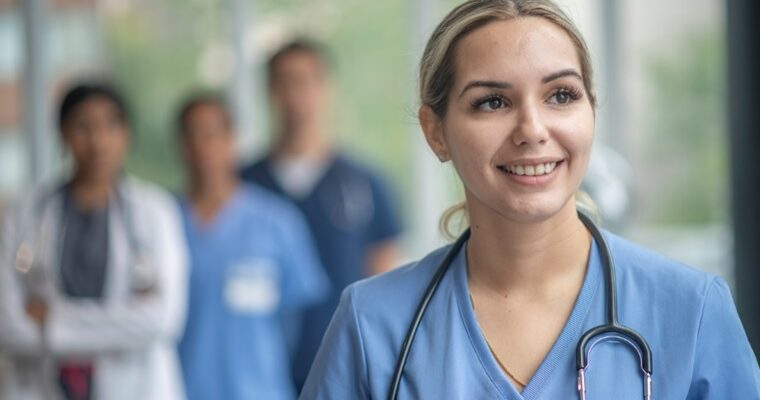 Healthcare is one of the most important sectors on a national scale and key to helping us all live longer happier lives. It is also crucial for giving us the care we need when sick and the treatment required to recover from physical injuries. In addition, the health sector works with people to help them deal with mental health problems, manage various medical conditions and prevent medical issues that could potentially cause problems. 
While there are many vital roles that help the health industry do this, nurses are easily one of the most critical. This importance allied with the benefits working as a nurse provides means it is also a popular career choice for those working in the sector. 
Although you may assume this applies mainly to those moving straight into entry-level nursing roles as their first job straight out of college or university, this is not always the case. It is also perfectly possible to change careers and move into nursing from another sector. 
Never too late to consider transitioning into nursing 
The truth is that you can become a nurse at any time in your life — regardless of the sector you may be working in currently, your previous work/academic experience or how old you are. 
Moving into nursing as a second career can offer a number of personal benefits as well as advantages for the healthcare facility you work in. You may for example bring a wealth of professional experience with you and know how to conduct yourself in this kind of environment. 
In addition, you may have experience working as a part of a team in your previous role and be able to use this positively as a nurse. Moving into nursing from another industry can allow you to bring the best working practices with you which nursing can adopt to improve. 
So, why might someone choose to change careers in the nursing sector from another industry? Some people find that they have an interest in the role or are finally following a long-held desire to become a nurse. 
Some people may also find their current role boring, poor in terms of career progression, unfulfilling or pointless. Nursing is the antithesis of this, which might be very appealing to people in this situation. Some people choose to switch to a career in nursing when their current industry is in decline, and they want to move into a career with increasing demand. 
How do you go about transitioning into nursing? 
Although nursing is a niche within healthcare that has many different roles and can allow you to work at very senior levels, all nurses start their journey at a more basic level. For the vast majority, this means becoming qualified to work as a registered nurse. 
To achieve this, you must complete formal academic training and earn the qualifications you need to work as a registered nurse in the US. The good news for people looking to switch to nursing from another career is that this is simpler than ever now. This is due in large part to the evolution of nursing training over time and the impact of technology on nurse education. 
There are now online courses helping people gain the required knowledge while still attending to existing work and family commitments. Some courses can also be studied on a part-time basis, which is very helpful for those looking to move into a career in this field. 
When it comes to the academic qualifications that are best to focus on when starting out your journey in nursing, most people will enroll in a bachelor's degree in nursing (BSN) to begin with.
 This course teaches you all you need to know to work as an RN and complete the move into this part of healthcare. It is also possible to study an associate degree in nursing (ADN) qualification to become a nurse, but this is less advanced in terms of training than a BSN. As a result, an ADN may not offer the same earning potential, patient outcomes and career opportunities as a BSN qualification.  
Can you gain the qualifications to move into nursing quickly? 
If you are eager to make the change from your current career to nursing quickly, you may wonder how soon you can make it happen. This is especially true if you do not like your current role and cannot wait to escape! 
For those who want a faster route, accelerated bachelor's degree in nursing (ABSN) courses are the best choice. These courses are known as the fastest RN program for those with a bachelor's degree in another field. Reputable institutions such as Elmhurst University offer ABSN programs that can be completed in as little as 16 months, which provides a quick way to transition into the nursing sector as a second career. With 100% online coursework, Elmhurst's program also incorporates two on-campus residencies alongside clinical placements to ensure you receive hands-on experience in nursing to equip you to excel in your nursing journey. 
What benefits does a career in nursing offer? 
Effective career planning is a great way to not only look at where you are right now but also map out where you want to head next. If you are unhappy in your current job and want to switch to something with some eye-catching benefits, nursing is a superb option. 
Here are some of the advantages this profession has to offer: 
Job satisfaction 
For many people looking to work in the nursing profession, high levels of job satisfaction are a major draw. This operates on a few different levels and makes working as a nurse a lot more fulfilling than many other roles. This makes nursing a popular second career choice for those who might find their current job unfulfilling. 
Nursing delivers immense job satisfaction on a daily basis. Roles such as that of a registered nurse enable you to make a positive, direct impact on the world. It also gives you a chance to make a real difference in people's lives and help your local community. 
By giving back to those around you in this way, you are helping to empower communities and give people the chance to live longer, happier lives. This feels amazing and is a major source of personal satisfaction. 
Working in nursing can also feel very satisfying when someone you have cared for overcomes their injuries or medical condition. The feeling you get from not only seeing them regain their health but also knowing you have played a part in this is hard to describe. 
Salary 
Although money is not the main attraction for most people moving into this healthcare niche, it is another advantage of the sector. The average RN salary in 2023 is around $68,000, which shows the excellent rates of pay available to those moving into nursing. 
As you move up into more senior roles, you can also expect to see salary levels rise in turn. Working as a nurse can therefore be a financially rewarding choice, which is hard to ignore. If you are planning to move into the industry from a poorly paid job which makes it hard to survive each month, it is certainly an attractive feature. 
High demand for nurses 
The central role nurses play in healthcare facilities means that it has always been an in-demand role. This has become even more true in recent years, as nurses leaving the sector due to retirement or for personal reasons have left many vacancies to fill. 
As a result, nurses are more sought after than ever to not only fill these job openings but also look after the growing number of patients the US healthcare system has to deal with. This is particularly evident when you consider the growing aging population in the country who rely on the care provided by nurses when ill and for managing health conditions. 
These factors have resulted in high demand for nurses in most states and current statistics around nursing in the US show a predicted 9% rise in registered nursing roles. These projections clearly show that nursing is a sector in demand and one that should offer good job opportunities moving forward. If you are planning on moving into the industry from another sector, especially one that has a less rosy outlook, this is a real advantage. 
Range of roles 
If you find your current career does not offer much chance for progression or does not enable you to develop professionally, nursing could be the answer. It is well known that nurses not only have lots of opportunities to progress in their careers but also plenty of roles within the sector to target. 
This range of jobs is a major draw for people coming into nursing and offers a lot of scope in terms of where your career goes. While you may start off working as a registered nurse, you could choose to branch out into a more specific area over time. This could result in you working in fields such as mental health, pediatrics or women's health. If you are interested in doing something different after working as an RN for a while, you could even move into areas such as school nursing or nurse educator. 
Nursing also offers a range of senior roles to target and the chance to build a career at the very highest levels of healthcare. This can be very appealing to people who plan to work in senior leadership or management roles over time. Whether it is director of nursing or chief nursing officer, the range of top-level roles to aim for makes this a career with real potential. 
Chance to build close bonds with colleagues 
Working as a nurse involves working as a part of a wider healthcare team to deliver effective care. This is all done in a fast-paced environment which can sometimes be challenging and pressured. Due to these demands, nursing allows you to build close bonds with colleagues, which can develop into real friendships. This can most often be seen in the friendships nurses who work on the same unit for a period of time develop. 
Even if you do not become friends outside of work with all your colleagues within healthcare, the chance to work as a team and provide top-class care feels amazing. Being part of a tight-knit group also makes coming to work every day a real pleasure and something you look forward to. This may not be the case in your current role, where you may work alone or as a part of a team that does not offer the same feeling nursing can. 
Flexibility 
One real advantage that nursing roles offer is flexibility and the chance to set your own working schedule to some degree. Although you may need to work up to 12-hour shifts at a time in this type of job, many nursing roles will allow you to choose which shifts to pick up. 
This can be very useful in terms of family life and enable you to work when your children are in school or when your partner is also working. This level of flexibility is also handy for your personal life, as it can help you schedule work when your friends are working and to be free when they are too. 
Most nurses are also very open to swapping shifts, so you can always make that important appointment or meeting in your personal life when needed. This level of freedom is not always possible in other sectors and is a major bonus for people moving into this part of healthcare. 
What are the tasks and responsibilities of a registered nurse? 
Although nursing has many different roles you could move into, most people will start their journey as a registered nurse. This makes sense as it gives you experience in working directly with patients and provides a solid foundation to move into other roles. Here are some of the common tasks and responsibilities this role includes: 
Monitoring patient's condition and informing the healthcare team of any changes
Recording patient vital signs and condition
Administering medications
Establishing IV access
Patient liaison and education
Performing wound care
Taking samples from patients for lab analysis 
Although the above is not every single task a registered nurse may be called on to perform, they are the most common to be aware of before changing careers. 
What qualities and skills do you need to move into nursing? 
We have already noted that getting the right education is key to beginning your journey as a nurse. While this is very important, you should also focus on the skills and qualities needed to succeed in the role. This enables you to decide if nursing is the second career for you and something that you will not only thrive in but also find enjoyable. 
Some of the most crucial skills and qualities to have include compassion, communication skills and excellent people skills. Compassion is certainly a must and enables you to show the care for patients that all good nurses have. Excellent people skills are also vital, as is the ability to communicate effectively. This naturally allows you to interact with patients professionally and clearly explain things to them, but it is also key for working professionally with colleagues. 
The modern nursing world is a tech-savvy place, and this means anyone moving into it should have decent IT skills. Although you do not need to be a computer whizz, knowing how to conduct video calls, send emails and operate basic software packages such as MS Office is essential. 
To successfully move into nursing from another sector, it is also crucial to be calm under pressure. This will help you to perform to your best abilities and deliver positive patient outcomes in challenging situations. Nurses must also be organized and have good attention to detail. This helps prevent potentially deadly mistakes when caring for patients and also ensures work is performed in a logical, structured manner. 
Is registered nurse the only entry-level nursing role to consider switching into? 
Although a registered nurse is the most popular choice in terms of entry-level roles to move into, it is not the only option to consider. You could also train to become a licensed practical nurse (LPN), which offers another path into the sector.
LPN roles may sound similar to working as a registered nurse, but they are unique in their own right. LPNs typically work at a lower level and normally come under the guidance of RNs. Most LPNs have less scope in terms of where they can work and are often employed in nursing homes or residential facilities.
The level of training to become an LPN is usually less advanced than the training needed to become a registered nurse. Due to this, the rates of pay for trained licensed practical nurses are normally lower than what registered nurses earn. Although LPNs play a vital and useful role in healthcare, the above factors make becoming a registered nurse the more popular career path to transition into.
Beginning your journey into nursing 
Although many nurses move into the sector directly from university or college, this is not the only way to go about it. It is also possible to move into nursing as a second career later in life and from another sector or industry. If you have developed a burning passion for helping others recently or are finding your current job less satisfactory, then starting your journey as a nurse could be the solution.