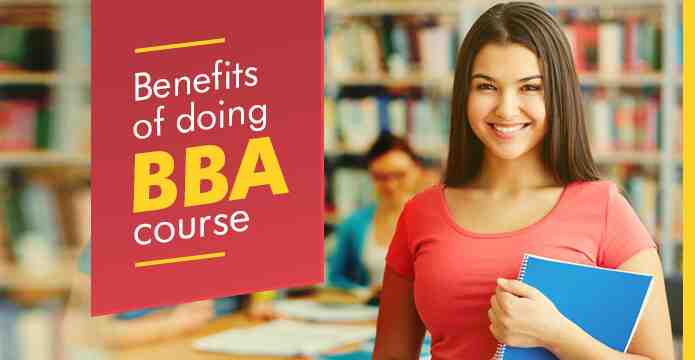 Become a business leader by studying one of the most in-demand courses, BBA. Keep reading to explore all the career benefits of a BBA.
Earn a Bachelor of Business Administration degree to jumpstart a rewarding career. You will learn the fundamentals of management and business through this BBA course. After getting this degree, you can either begin your job immediately or do a master's in management.
A BBA program can help you become a manager in a company or start your own business someday. Many reasons exist for choosing this degree course over others, including its high value. The BBA does have a few distinct advantages over other degree courses in management.
Keep scrolling to learn how doing a BBA can benefit your career.
BBA Program – An Overview
BBA is an undergraduate business degree that covers various management skills over three years.
Students study business statistics as part of the curriculum.
Students will learn business mathematics, communication, marketing, operations and statistics during the first year.
During the second year, the student will complete an internship in an industry of their choice.
And in the third year, they will learn in-depth about management skills.
Scope of BBA
BBA graduates can choose from various careers in sales, marketing, human resource management, finance, and information technology.
You can earn ₹2.5 to 4 lakhs a year as a starting salary. As you gain experience, you can expect a substantial salary increase.
You can also pursue higher education with this degree.
Your Bachelor of Business Administration degree will prepare you to enter the workforce quickly and gain valuable experience.
Furthermore, it can help you manage a family business or become an entrepreneur.
Benefits of Pursuing BBA Course
Studying BBA will benefit you in the following ways.
● Develops Management Skills
Candidates wishing to develop managerial skills can benefit from a BBA degree. This course covers vital areas such as finance and economics and core management areas such as marketing, sales, and strategy management.
●  An Industry-Oriented Course
A BBA course caters to the needs of the industry. The combination of practical and theoretical knowledge makes them an excellent choice. BBA graduates can carry out many organisational responsibilities, which is why many established companies and start-ups seek BBA graduates.
●Huge Job Market and Growth Potential
Since BBA graduates can fit into various organisational roles, their job prospects are excellent. Furthermore, this course is ideal for students who aspire to become entrepreneurs or manage their family businesses. An executive-level BBA graduate can earn a starting salary between ₹2.5- ₹4 lakh per year. Associates and Assistants are appointed to higher positions based on their experience. Wages can increase significantly for managers.
● Intensive Professional Course
The duration of the BBA degree is three years, unlike the B.Tech degree at the undergraduate level. Some universities offer an Integrated BBA + MBA course over four years. This course gives candidates an additional academic year and gives them a chance to gain valuable work experience through internships or prepare for postgraduate study, which is highly beneficial.
● Stepping Stone for an MBA
A BBA is a perfect prerequisite for an MBA. Students who study BBA learn the basics of business administration, management knowledge, and practical skills. A student pursuing a MBA following a BBA generally understands management better, which will benefit their future careers.
● Early Career Start
BBA degrees allow students to begin their careers early. A BBA graduate is more likely to find a job and earn a higher salary than a Bachelor's degree from another stream. After a BBA, you can complete your graduate degree and begin working immediately without waiting to meet your postgraduate studies. There are plenty of jobs after BBA available.
● Job Satisfaction
You know your career path when applying for a BBA degree. Starting from day one, you will learn business administration and management. This will enable you to understand how a business is run, and since you will be involved in the field of your choice, it maygive you job satisfaction.
● A strong network
BBA degrees emphasise communication, so you can build a strong network of professionals once after mastering all needed critical skills. Due to the possibility of starting one's career before most other Bachelor's degree holders, professionals have more time to make a solid network, which can be extremely useful in the future.
● On-trend Degree
With a BBA degree, you get updated knowledge, which is one of the best advantages. BBA courses are well-designed and aim to teach students as much as possible about the business. As well as being updated to reflect the latest trends and developments in the industry, the course gives students an edge over their competitors. The BBA program equips students with knowledge of best industry practices and technology.
BBA Job Opportunities
A BBA graduate can have vast jobs after BBA. Listed below are some of the jobs for BBA freshers in India.
| | |
| --- | --- |
| Job designation | Average annual salary |
| Accountant | ₹4.45 Lakhs |
| Investment Banker | ₹3 Lakhs |
| Trader | ₹2.6 Lakhs |
| Loan Officer | ₹2.53 Lakhs |
| HR Associate | ₹2.91 Lakhs |
| Assistant Manager Sales | ₹5 Lakhs |
| Marketer | ₹3.45 Lakhs |
Some of the top recruiting areas of BBA in India are:
Sales and Marketing,
BFSI Sector,
Finance and Accounting,
Human Resource Management,
Tourism Management,
Supply Chain Management,
Business Consultancy,
eCommerce and
Government Jobs.
Conclusion
By choosing to study BBA, you have already demonstrated your ability to make intelligent decisions. Make another smart choice by getting admission to top BBA colleges in the country with Sunstone's benefits.
Sunstone offers 100% placement assistance after course completion, with a guarantee of 50+ interviews.
Become a future-ready employee with Sunstone's dynamic modules! Take advantage of in-demand skills and advanced certifications to gain a competitive edge.
FAQs
What are your career goals for BBA students?
You can select any of the below career goals after BBA.
Specialise in Management (MBA)
Join Public Services (UPSC)
Become a Data Scientist.
Become a Digital Marketer.
Become a Blockchain Expert.
Become a Product Manager.
What skills do you gain from BBA?
You can learn the following five skills from the BBA Program.
Leadership skills.
Sales and Marketing skills.
Organisational Research.
Negotiation skills.
Relationship Building.
How can BBA benefit your career?
A BBA course can help your career in the following ways.
Industry-oriented program
High salary and benefits
Job satisfaction
Personal development
Help build managerial skills