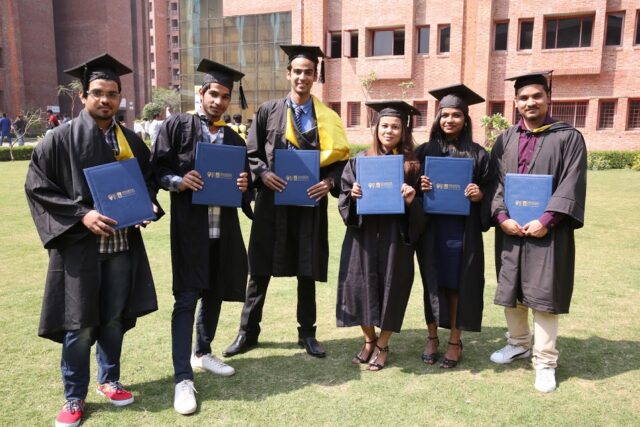 Choosing the right university is one of the most crucial decisions in the life of the students who have recently passed 10+2. If you are someone who has completed schooling and wants to find the best university for higher studies in Noida, then Amity and Sharda are probably the best options for you. This article compares Sharda University and Amity University to help you find out which is a more suitable choice for you.
Amity University vs Sharda University: Overview
Given below are the various parameters that state the overall difference between Amity and Sharda university:
Area of Campus: While Amity university is spread over an extensive 1200 acres, Sharda university has a comparatively smaller area of 63 acres.
Highest Salary: In terms of salary, Sharda university scores above Amity university with the highest package of 30 LPA. Amity university's highest salary package is INR 21.5 LPA.
Programs: Amity university offers over 300+ courses and Sharda university provides 130+ programs.
Faculty: There are over 6000 excellent faculties at Amity and 900+ faculty personnel at Sharda University.
Students: When it comes to the number of students, Amity wins the race with 1,50,000+ students. Sharda University has only 13000+ students.
Sharda vs Amity: Detailed Comparison
Mentioned below are the various factors that will help you determine which is a better option for you between Sharda and Amity University:
Brand value
One of the most important factors that students prefer to choose a top college is the brand value. A good college from the best one is distinguished by its history, affiliation, academic excellence, the status of a particular course (stream), placement, and fees, among other important factors.
Here are a few important points about each university:
a) Amity University
12000+ acres of high-tech campus
Wireless campus with more than 4000 HP/IBM machines
Wifi connectivity of 600 MBPS
Connected by a secure virtual private network
b) Sharda University
self-financed university with lots of awards and recognitions.
Best Private Global University awarded by National Education Excellence in 2017
highest placement package of 30 LPA
Infrastructure
When it comes to infrastructural facilities, both universities rank among the best in the world of business. Amity University is located on 4.5 million square feet of land and has cutting-edge facilities like India's first wireless campus and programs for international students and faculty, to name a few. One of the main reasons students favour Amity over other colleges is the infrastructural facilities offered there.
The Sharda University Campus is also regarded as one of the biggest in India. With furnished rooms available for more than 3200 students, single, double, and triple sharing, as well as six seated dormitories for nursing students, the university offers a Sepaa rate AC/Non AC hostel for boys and girls.
Faculty
Students must research the faculty at an institute before enrolling in a particular college. Amity University is far ahead of Sharda University in terms of the number of research projects, patents, and faculty engagement initiatives.
Using a variety of Faculty Development Programmes, Amity University continuously improves the knowledge and abilities of the faculty members. Moreover, international collaborations and various induction Programs aid faculties in creating a strong global education network.
Placements
Everyone considers campus placement statistics to be one of the most important factors when choosing a university. Although Sharda university offers the highest package; on an overall basis, Amity has a higher placement rate. However, if we disregard the finer points and the highest salary offered, then the placement rates at the two universities are essentially the same.
 It is up to the personal choices and preferences of the students that make a university a suitable option to study. We have listed all the important factors to help you move forward with the precise university. If there is still some doubt, you can visit the CollegeSearch website to know about the courses offered, admissions, placements, and other details. CollegeSearch is one of the largest educational platforms that connects students, colleges, and alumni.