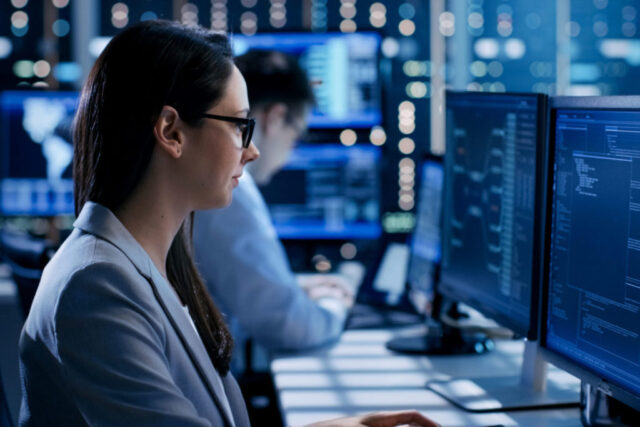 Are you interested in cybersecurity and want to work as a cybersecurity professional? First of all, it is important to know what the professional in the area does and what are the areas where they can work.
Cybersecurity is responsible for protecting people, processes, and technologies against possible cyber attacks. When these attacks occur, they are capable of increasing the vulnerability of company data. Therefore, this area is increasingly important within institutions, whether private or public.
After all, today, more than ever, data is the most valuable asset within companies. Given this importance, it is essential to place them in the hands of qualified and reliable professionals since investing in cybersecurity is not essential to promoting the success of a business. You can register for a cybersecurity program ontario offered at ABM College to become an expert in this field.
What does a cybersecurity expert do?
This professional works to prevent threats and invasions in the digital world. For this, they run several tests and develop applications capable of protecting all the company's systems.
Some of the primary responsibilities of this professional include:
Create security policies to prevent unauthorized access;
Plan security parameters and implement them;
Create contingency plans;
Constantly monitor all company systems and files to ensure data security;
Organize audits;
Implement risk management systems;
Carry out tests against possible digital vulnerabilities;
Train company professionals, as well as several other activities.
Steps to becoming a cybersecurity expert
Now that you know what a cybersecurity expert does, check out the step-by-step guide to becoming one and what you should analyze and evaluate before joining this area!
1 – Define a branch of security to act
Cybersecurity has several segments, and you must decide which one you want to work in to specialize in the area. The main division made among professionals in the area is the Blue Team and Red Team. These teams represent the defense and offense of the company's systems.
However, it is important to remember that choosing the activity segment is one of the most important decisions in this area. After all, you will have to invest in specializations to be successful. So do your research and think carefully before deciding.
2 – Specialize in your chosen area
As we mentioned, in ​​cybersecurity, it is essential to specialize to be successful. You can look for courses and certifications that will give you the knowledge you need to act, as well as professional recognition as well.
For this, look for cybersecurity courses at the best institutions, which provide theoretical and practical classes, preferably with cyber-attack simulators.
3 – Mastering computer networks
If you want to work in Cyber ​​Security, it is essential to have a domain in computer networks. In this sense, you need to know the infrastructures, composition elements, and all the general fundamentals of networks.
Some essential knowledge is in Switch, Gateway, Structured Cabling, Routers, General Network Fundamentals, OSI Models (International Standards Organization), Load Balancers, TCP/IP model, IP Address, and Address Classes.
You should also have proper knowledge of safety standards and models, know the types of attacks and how to solve them, and have a mastery of legislation.